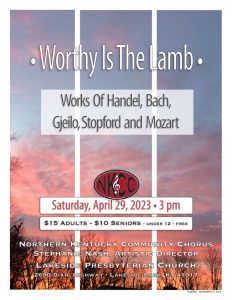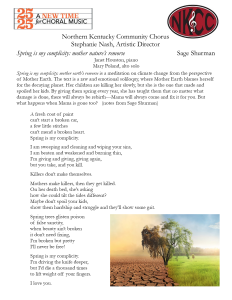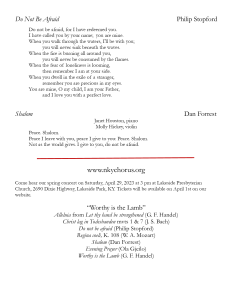 Worthy is the Lamb
Saturday, April 29, 2023, 3:00 pm – Lakeside Presbyterian Church
Rescheduled from 2020: An exciting and timely concert, the repertoire includes new and old, heart-felt and challenging music from several of the finest composers writing for choral performance. You will not want to miss this wonderful afternoon of choral passion.
Alleluia from Let thy hand be strengthened (G. F. Handel)
Song of the Universal (Ola Gjeilo)
Selections from Christ lag in Todesbanden (J. S. Bach)
Do Not Be Afraid (Philip Stopford)
Regina coeli in C Major, K. 108 (W. A. Mozart)
Shalom (Dan Forrest)
Evening Prayer (Ola Gjeilo)
Worthy is the Lamb & Amen from Messiah (G. F. Handel)
25 for 25
Sunday, March 19, 2023, 2:00 pm – Christ Church Cathedral
We were thrilled to be a part of the 25 for 25 Project sponsored by the May Festival. We premiered Sage Shurman's composition written for us, Spring is my complicity, and sang two other pieces from our Spring Concert.